Posted by bert on Aug 02 2008 | Tagged as: Announcements, Local Fun
Sunday, August 3, 2008
2:00-5:00 P.M.
9524-1/2 12th Ave NW
Come play in the mud and learn how to build with the oldest, simplest, and (I think) most beautiful technology in the world – cob! We'll be firing up our
recently finished cob pizza oven for the Sustainable Crown Hill Meeting in the evening, while we continue work on the adjacent cob bench. Cob is just sand, clay and straw and it is mixed with your feet and built with your hands so anyone can join in the fun – kids are welcome and you don't need to have any building skill or cobbing experience. Part of the fun is getting messy so wear you grubby clothes.
Below is a pic of a simple bench I built with some students at school. Hey, if
thirteen year old girls are convinced it's fun, what are you waiting for! : >)
Come join us!!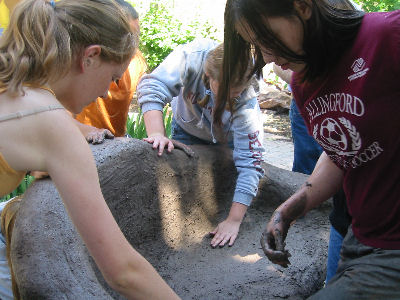 Bert
No Comments »